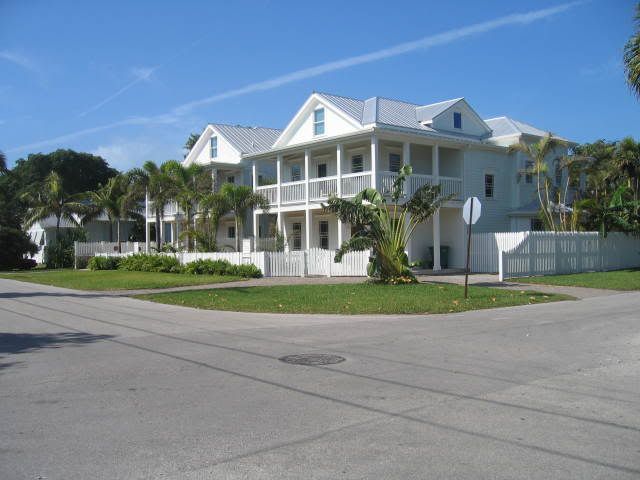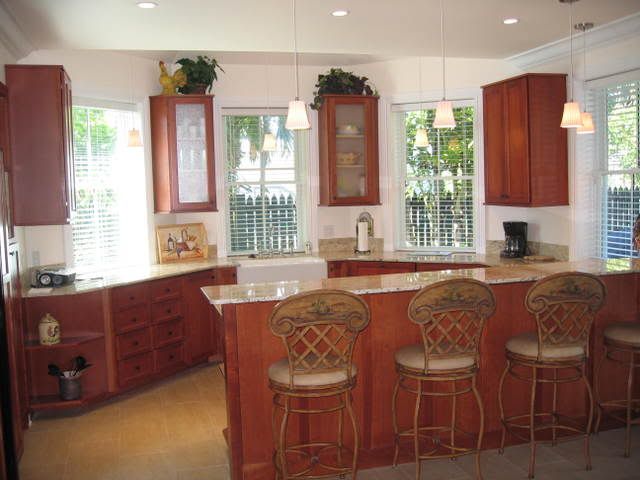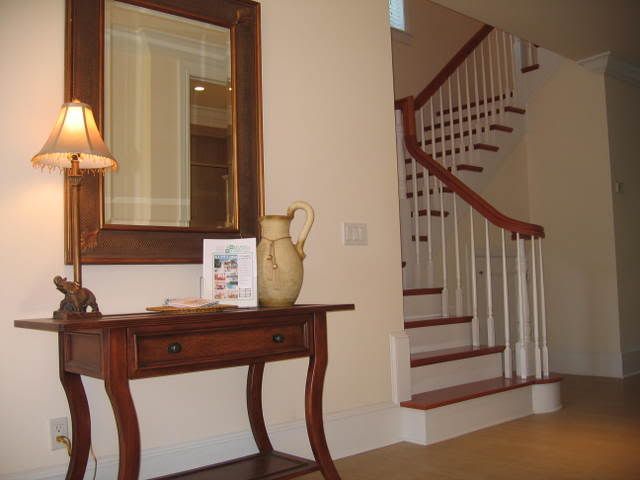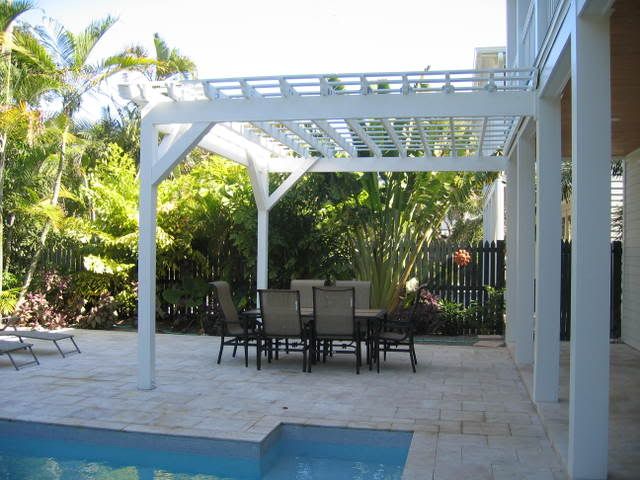 I have written about the two new houses located at 727 and 731 Waddell Avenue in the Casa Marina area of Key West on several occasions. The houses were built in 2008. 731 Waddell Avenue is located at the corner of William Street. 727 Waddell Avenue is located next door to the west. Each property is now offered at the
short sale
price of
$1,499,000
or
$518
per sq ft.
The new listing Realtor describes 731 Waddell Avenue this way:
"Elegant new home situated on a gorgeous corner parcel in the Casa Marina area. Built new from the ground up this home enjoys a modern open floor plan with great room that overlooks a spacious backyard, pool/Jacuzzi & gorgeous stone patio. Built above flood elevation featuring impact doors & windows, hardie plank siding, fenced yard & irrigation system. 4 proper bedrooms with ensuite baths + 5th optional bedroom or den with full bath. 3 bedrooms on 2nd floor each enjoy spacious covered balconies. Tile & wood floors throughout,11 ft ceiling heights, great storage & more. Centrally located where a short stroll will take you to the beach, park, tennis courts, famous Duval Street or fabulous neighborhood waterfront restaurants."

Each house is virtually the same except for the floor plans which are flip-flopped. The listing Realtor shows 731 Waddell as having 2892 sq feet of living space on a 5000 sq ft lot. (The County Appraiser show only 2204 sq ft.) The main level has a great room, kitchen and informal dining area, a den or fifth bedroom with bath that also serves as a main level guest bath. The master bedroom is on the second floor at the front of the house. There are two additional bedrooms on the rear that each have en-shite baths. All three bedrooms on this floor have decks. There is an additional bedroom and bath on the third floor. Five bedrooms and five baths are unheard of in Key West. These are houses that can actually accommodate owners with large families or friends. No more sleeping bags or futons will be required. No more over-crowded bathrooms to endure.
The size of these two homes really set them apart from other new construction in Key West. The physical size and interior living space is bigger than just about any other new property in all of Key West. The lots are large. The interior and outside spaces are well thought out and are user friendly. Each house actually has a front yard with grass and a white picket fence. The front and rear landscaping has matured nicely. Each house has a large pool and water feature plus a large deck for sunning or entertaining.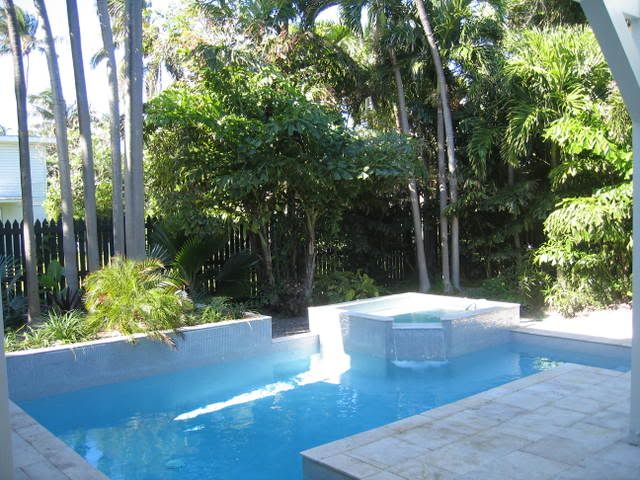 These houses have a limited view of the Atlantic Ocean which is a little more than a block away. Higgs Beach a five minute walk to the south. And Duval Street and all of the excitement is a five minute walk to the west. Louie's Backyard is perhaps two minutes away by foot. Key Westers can buy beach club memberships at the Casa Marina Resort which provides full use of all facilities including the gym,spa and also get discounts on food and beverages.
Casa Marina area is close to everything but far enough away not to be in the middle of it all. The streets are broad and quiet. The trees are tall and announce the sea breezes as they pass over the island. Homeowners can be anywhere they need to be within a few minutes foot, bicycle, scooter, or car.
I think these two houses are now priced to sell. They were previously listed as high as $3.3 million each. There is not a big market for houses in that price range. In fact, there is not a big market for buyers looking for houses as large as these. I would think a couple with a large family would find either house to be just the ticket. Likewise, a gay couple might find either of these houses the perfect island retreat where there is room for many house guests. The pool and deck area are both casual and sophisticated.
If you are looking for a good deal on a large Key West house, please call me,
Gary Thomas
,
305.766.2642
or e-mail me at
kw1101v@aol.com
. I am a full time Realtor at
Preferred Properties
in Key West Florida. I live in the Casa Marina area and I love it.