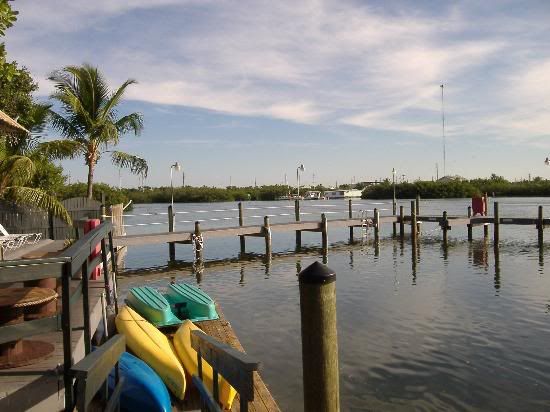 I have written about this particular property twice before. I think this particular condominium has a lot to offer a potential second home buyer looking for a place that can be legally rented to help defray part of the cost of ownership.
This is how the listing broker describes Unit 201 at Coconut Mallory Resort and Marina, a condominium located on the eastern edge of Key West:
" Boat slip & transient license! Second floor unit boasting an open floor plan with water views. Elevator access from pool area to private wrap around balcony accessed from living area and bedrooms. Recently renovated kitchen and baths. Offered fully furnished ready to move in today or start earning rental income. Dock Fees associated with the boat slip are $1,140.00 paid one time annually. Condominium Fees paid monthly include all utilities, electric, water, sewer garbage & cable along with exterior insurance and building/common area maintenance.
This unit sits on the top floor and has water views of the Cow Key Channel that separates Key
West from its nearest neighbor, Stock Island. This channel provides instant deep water access to boaters and fishermen. There are only two units on the second floor and they each have large wraparound balconies on three sides. The views from this unit include the adults only pool to the north, the water to the east, and the timeshare units to the south. There is a second family pool and spa plus a really cute playground for the kids on the opposite side of the timeshare buildings. There are two units on the floor below and covered designated parking at ground level.
Coconut Mallory has 1126 square feet of newly remodeled interior space and wrap around covered lanais. The living room and both bedrooms have immediate access to the lanais and this makes the interior spaces seem even larger. The are no neighbors across the courtyard or next door to watch your every move. The only "neighbor" occupies the west one-half of the floor and that unit has no view. The neighbors to the south, east, and north are open skies, some palm trees, and the waterfront where the Coconut Mallory Marina is located
CLICK HERE
and
CLICK HERE
.
This unit has a real killer view of the adults only pool just to the north. (There is another pool that does permit children. That pool is secluded and surrounded by palm trees.)
Unit 201 has a large covered parking space with easy access to the enclosed stairway or elevator. That means you do not need to get beat up by the occasional rainstorm or blistering heat when you are bringing in the groceries. There are no bowling alley long hallways or tourists to dodge on scooters zooming around the parking lot. When you are home, you are home.
The interiors were very recently tastefully renovated to provide both utility and style. The space was designed for a lot of potential use but it looks great. I will be happy to send interested buyers more photos. Email me at kw1101v@aol.com.
Everything is new.
CLICK HERE
to read the details on Unit 201 and view more mls photos. The new owner can rent the unit or not as he or she decides. But on-site management is available.
CLICK HERE
to look at the snazzy property management website and take a look at the photos of the amenities offered. Then you will get an idea why I really like this property.
This unit was originally priced at $550,000 and it is now offered at
$425,000
or $377 per sq ft. But keep in mind that the price includes a valuable
TRANSIENT RENTAL LICENSE
and a
BOAT SLIP
. I did a quick search of other two bedroom condos and townhomes priced at or under $425,000 to see what else is available for comparison sake.
CLICK HERE
to compare.
Please give me,
Gary Thomas
,
305-766-2642
a call to schedule a showing. I am a full time Realtor at Preferred Properties Coastal Realty Inc. in beautiful Key West, Florida.