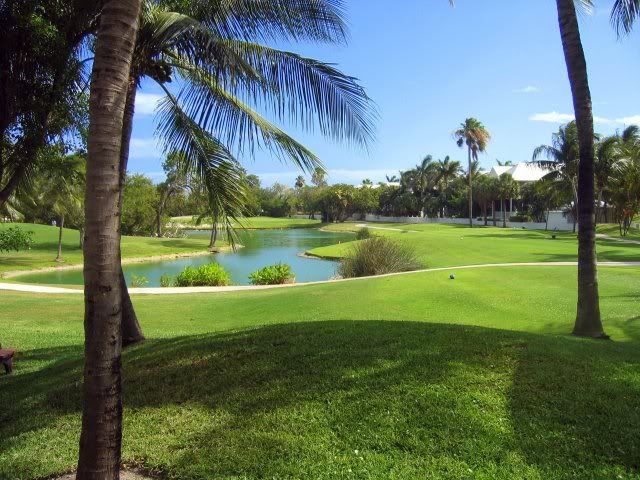 The relatively new bank owned property located at
210 Golf Club Drive
may be the the "ideal deal" you have been looking for. This single family home is located in The Sanctuary at the Key West Golf Club. Driving through The Sanctuary is like taking a Universal or Disney Studios tour bus through a movie back lot. Each single family is just a bit different than the next, but every home has the traditional two story Key West Conch style architecture. Every front yard has a classic white picket fence. The one-way drive loops the development. Either side of Golf Club Drive is lined with mature palms and specimen trees. It's prettier than the set of Desperate House Wives and it is located in Key West.
This is how the listing Realtor describes 210 Golf Club Drive:
"Beautiful free standing single family home located in The Sanctuary at the Key West Golf Club. The main floor has a functional kitchen, 1/2 bath and large living room. The open floor plan extends to covered patio and cocktail pool. Upstairs has 2 master suites and laundry facility."

Here is my take: this 1120 square foot home sits on a 1939 sq ft lot on great street. No doubt about that. The main floor is one big open living area with kitchen. There is not a lot of pizazz about that. There are two nice sized bedrooms with en-suite baths on the second floor. Each bedroom has abundant light on three sides plus each of the bathrooms has a separate window. Even though this house was only built in 2000, it does have some termite damage and some what looks to be wood rot. But neither of those factors should deter a serious buyer. This home is bank owned and is offered for sale at just
$346,400
or $309 per sq ft.
This home has its own private pool and enclosed rear courtyard. The pool is small but I believe the pool could be enlarged. The house is located adjacent to the covered parking structure and it has its own side entrance that leads right to its covered parking spot. Think about that when you need to schlep groceries from a parking place or driveway anywhere. I would estimate the span between back door to the car trunk would be 50' at most, and most of that space is under a roof of some sort.
This house is not in perfect condition, but it is certainly not in bad condition. There is some termite damage, but most of that appears to be limited to soft new pine trim that is easily replaced. There is also some exterior wood trim that needs replaced. I am not a certified home inspector so my opinions are just those of a lay person. I always advise buyers to have a certified home inspector look at any potential home purchase.
CLICK HERE
to read more detailed info and to view more photos.
The house at 210 Golf Club Drive is not located directly on the golf course so you do not need to worry about an errant ball knocking your noggin or breaking a window.
CLICK HERE
to do your own search of homes in Key West priced under $350,000 to see why I think this might be an ideal deal.
CLICK HERE
to compare 210 Golf Club Drive to the five other current single family homes in the Sanctuary. None of these homes are shown as either bank owned nor short sale.
This
Bank Owned
house is not occupied and can be shown at almost any time. Please call me,
Gary Thomas
,
305.766.2642
to schedule a showing. I am a full time Realtor at Preferred Properties Coastal Realty, Inc. in Key West, Florida. Somebody is going to but this place in Paradise. Might that someone be you?