I have written several blogs on the two new homes at 727 and 731 Waddell Avenue in the Casa Marina area. The houses are nearly mirror images of each other. The layouts are reversed and some interior finishes are a bit different. Otherwise, they have the same basic design and construction elements, amenities, and upscale Key West location. The original asking price for each was $3,300,000 in October 2004 (pre-construction price). Over a protracted time period both became short sales. Today the Key West mls revealed that 731 Waddell Avenue sold at $900,000. The selling agent is Cory Held from my office. Congratulations to Cory and her buyers.
Today's blog isn't about what sold, however. Instead, it is about the remaining house at
727 Waddell Avenue
that is
still available
.
CLICK HERE
to checkout the mls datasheet and the listing photos. It is offered at
$999,000
as a
short sale
.
The main level of 727 Waddell Avenue has a formal entry hall that leads to the great room, kitchen and informal dining area located in the back one half of the house. Up front there is a den or fifth bedroom with bath that also serves as a main level guest bath. A beautiful stairway leads to the second floor landing. The master bedroom is on the second floor at the front of the house. The second floor also has two additional bedrooms on the rear. Each bedroom has en-suite baths. All three bedrooms on this floor have decks. The laundry room is also located on this floor. There is an additional (fourth) bedroom and bath on the third floor. This is not a tiny space, either. Five bedrooms and five baths are unheard of in Key West. This home can actually accommodate owners with large families or friends. No more sleeping bags or futons will be required. No more over-crowded bathrooms to endure.
The size of this home really sets it apart from other new construction in Key West. The physical size and interior living space is bigger than just about any other new property in all of Key West. The lot is very large. There is a big grassy front yard with white picket fence and off street parking for more than one vehicle. The interior and outside spaces are well thought out and are very user friendly. The front and rear landscaping has matured nicely. This property has an exceptionally large and beautiful pool plus a spa. The deck is very large and provides lots of room for sunning or entertaining.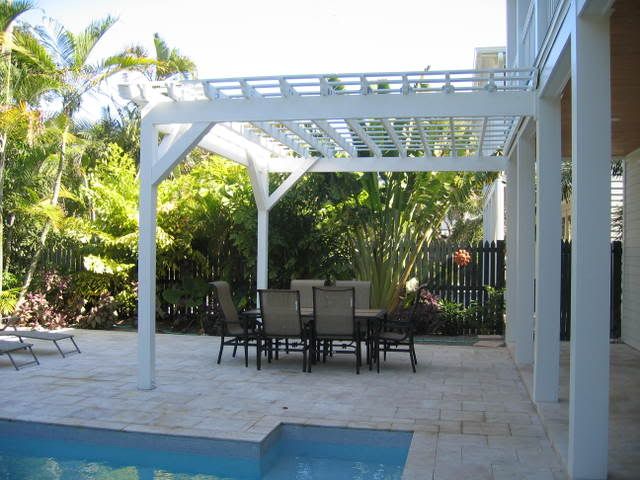 This home has a limited view of the Atlantic Ocean which is a little more than a block away. Higgs Beach a five minute walk to the south. And Duval Street and all of the excitement is a five minute walk to the west. Louie's Backyard is perhaps two minutes away by foot. Key Westers can buy beach club memberships at the Casa Marina Resort which provides full use of all facilities including the gym, spa and also get discounts on food and beverages.
Casa Marina area is close to everything but far enough away not to be in the middle of it all. The streets are broad and quiet. The trees are tall and announce the sea breezes as they pass over the island. Homeowners can be anywhere they need to be within a few minutes foot, bicycle, scooter, or car.
Now that we know what 731 Waddell Avenue sold for, we might imagine that 727 Waddell Avenue could sell for about the same price. If you are looking for a large home in Key West and the size and amenities of 727 Waddell Avenue meet your requirements, please contact me,
Gary Thomas
,
305-766-2642
. I am a full time Realtor at
Preferred Properties Coastal Realty, Inc.
in Key West, Florida. I live in the Casa Marina area and love it. You are close to everything but located far enough away that you are not a part of it on a daily basis.