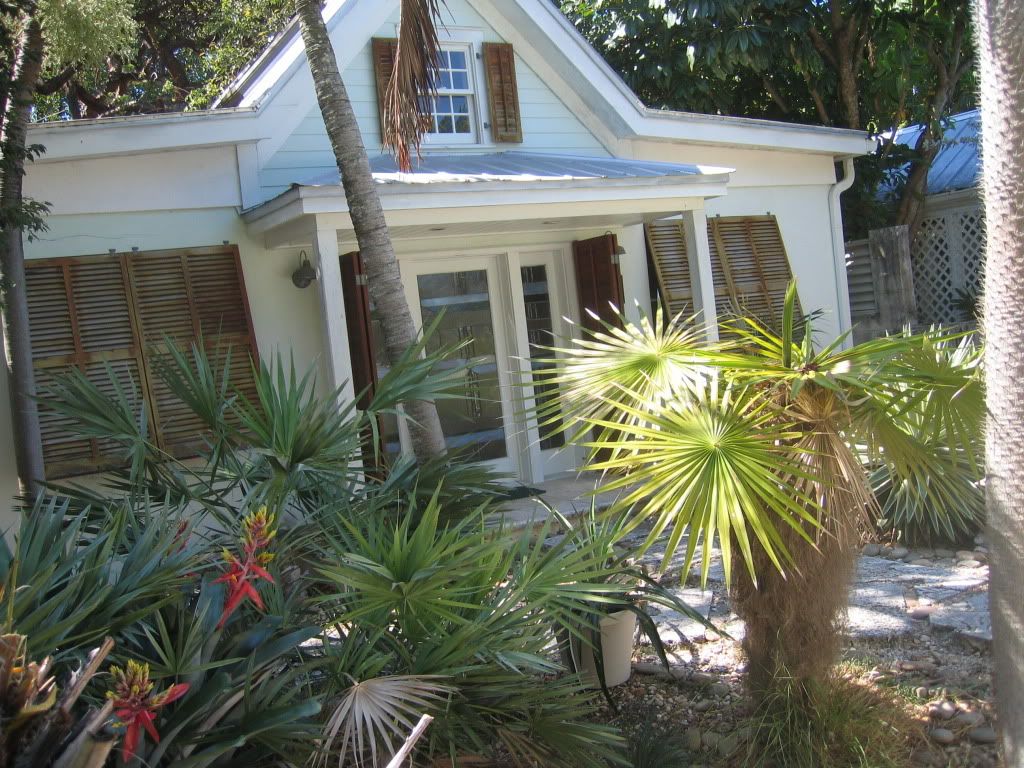 New listing last week and it will not last long: 1226 Seminary Street, Key West. This is how the listing Realtor describes this really sharp "condo":
"Bank Owned. Conch Style Cottage In Compound Setting. Tropical Landscape, Pool, Decked Yard. Open Floor Plan Updated Bathroom. One Block From White Street. Close To Old Town. Seller Will Credit Buyer Up To A Maximum 3% Of Sales Price Towards Closing Costs If Negotiated In Final Signed Counter Offer."

This cottage and the adjacent cottage directly behind share a common front yard entry, a common area in the rear and a pool. It's a mini-compound of sorts. The price is down right affordable at just $167,400 or $191 per sq ft. The house has vaulted ceilings, interesting architectural features throughout, upgraded fixtures, and a very serene location just across the street from the National Weather Service facility in Key West. The grounds are manicured and very attractive. The adjoining homes are very attractive as well.
The "cottage" as the listing Realtor calls it has 877 sq ft of living space made up of the great room (entry, living, dining and kitchen) plus the bedroom and bath. The place is sharp appearing from the street and even sharper when you enter. Your eyes are drawn to the ceiling and various architectural elements you just do not see in a home priced at $167,400.
CLICK HERE
to see the mls listing info and more photos.
The drawback is obvious: you share a lot of common space with another property owner. This place will not work for everyone. But if you have people skills, this may work for you.
And there is one other thing: there is one big assed tree in the rear that has huge limbs that are kissing the roof of the cottage. The tree might even be lip-locked in a spot of too. I have no idea if the Key West Tree Commission will let the owner do anything about that tree.
There you have it. Close neighbors and a tree that could destroy your house that you may not be able to cut because of the Tree Commission. But you can buy the house for a great price and take your chances.
The listing Realtor told me on Friday she will submit all offers as soon as the property has been in the mls for three days. That probably means offers will be submitted on Monday May 10th. This really will be one of those "As Is, Where Is" deals. Lots of potential risk and potentially lots of reward.
If you follow me on
TWITTER
you can see more photos I took of this property last Friday.