A loyal reader asked me to report on what I thought were some of the very best real property deals that occurred in Key West for 2012. I have written similar blogs in years past. You may recognize some of the properties as having appeared in my blog in 2012 or earlier. In some cases I simply sent emails to active buyers to advise of the properties or the properties may have gone under contract before I could write about them.
I know a lot of readers dream about owning a place in Key West. Some buyers have big budgets while most have more modest dreams. Many buyers look for a place that they can rent to help make the mortgage payment. I selected properties that met the needs of bargain buyers and those with money to earn (as opposed to 'burn').
2114 Staples Avenue
in the mid town area of Key West was the "poster child" for bank owned properties. It was priced to entice; it had a big upside; it had its share of real estate issues including a location that would bother some buyers as being "iffy" while others would see the same neighborhood as trending upward. The house had a second floor unit that that in my opinion ruined an otherwise really wonderful back yard with a nice pool. I saw this house as having tremendous upside. This bank owned house sold was listed at $255,000 and sold at $260,000.
916 Frances Street
was a bank owned property with a difficult location. The next door neighbor is Bare Assets on Truman Avenue. The 1710 sq ft house had the old Conch house look potential buyers want plus a back yard with plenty of room for a pool. The interior condition called for renovation. This fixer was offered at $281,150 and sold at $260,000.
812 Fleming Street #5
was a top floor condo in a great Old Town building. The unit itself had been abused by a tenant who left blood red paint all over the place. I saw the unit as being a diamond in the rough. The listing price here was $299,900. It sold for $285,000. Later in 2012 and then in January 2013 two other units were listed. One sold and the current listing went under contract within a week. You cannot beat the location of these units. I think the buyer got a great deal on this mini-fixer.
616 Caroline Street #3
was the least expensive of several developer units that sold in 2012. These places were beautifully designed, had superior building upgrades, and were offered fully furnished. The building is among the prettiest in Old Town and you cannot beat the location for proximity to the seaport or Duval Street. These units make great vacation rentals. This 420 sq ft one bedroom unit was listed for $336,000 and sold at $290,000. I showed these units several times. Each buyer loved the properties, location, etc. but just about every buyer griped about the price per square foot. Buyers need to get over that if they want to purchase a place in Key West. I just searched the Omaha mls where a buyer could purchase a beautiful four bedroom 3540 sq ft home for $ 335,000. We are not in Omaha. Prices here are high. (That house by the way was covered in snow.)
174 Golf Club Drive
is one of many places at the Key West Golf Club community that sold in 2012. Some places were in tough shape while others, like this market sale unit, were in move-in condition. I liked this place because it had a wrap around porch and one of those million dollar views. This unit was listed and sold at $318,000. ( I took the above photo right after showing 174 Golf Club Drive. My buyers said the place was too small for their needs. We went out to take in the view. I really liked the unit myself. I think the golf course offers a better price per sq ft than just about any other property in Key West.)
2524 Patterson Avenue
was a recently constructed bank owned home located in the mid town area. This home was large and offered a lot of space and good sized bedrooms to meet the needs of a local Key West family. A lot of buyers see places like this listed online and think they might rent them as vacation rentals. While it is legally permissible to rent a single family home in most of Key West as a vacation rental (non-transient), areas like mid town and new town normally are not where tourists want to spend their annual vacation. This 4 bedroom home was listed at $328,860. It sold at $320,000.
1216 Knowles Lane
in the Old Town area south of Truman was listed at $399,000 and sold for $395,000. It had two bedrooms and a lot of charm. I saw this home as being a great place for a full time resident or a second home owner who wanted a Key West getaway on a quiet lane. Not all buyers want a pool (or the expense that goes along with having a pool). This house went under contract in just five days.
824 Terry Lane
was a gem. The house was a stand alone cottage located inside of a land based condominium association in the Bahama Village area of Key West. The house could not have been any cuter. The condo association consisted of other cottage homes of various sizes. Most were in excellent condition. This unit was offered at $424,900 and sold at $400,000. This buyer must be very proud of him or her self. Well done!
201 Virginia Street
was a large spec built house constructed by a Key West contractor just as the real estate market took a nose dive. The property stayed rented throughout a lengthy marketing period. The house eventually sold at $425,000.
618 Petronia Street
appeared in my blog at least three times. It was an older home located on the top of Solares Hill. It had been updated but the outside looked more modern than Key West cute. The reason I favored this house was the huge backyard with unlimited potential for expansion of the house, the addition of a pool and maybe a guest cottage. This home was listed at $459,900 and sold at $440,000.
The bank owned transient licensed condominium at Duval Square (
1075 Duval # R32
) was listed at $444,900 and sold at $450,000. I showed this unit a couple of times and wrote about it in my blog. i saw this place as having a lot of potential. A few years ago I worked at a different real estate company that was located at Duval Square. I watched the tourists get out of taxis and buses as they checked into units like this. I understood the value of this location and the ability to rent the unit all year long. Some buyers worried about the fact that the unit was located just above an Italian restaurant. I can think of worse things in life. And this unit was more than twice the size of units at Shipyard which were selling in the same price range in early 2012. I think this buyer got a heck of a deal.
Our office listed
2 Hunts Lane
in Old Town for $489,000. Although listed as three bedrooms, two of the upstairs bedrooms were smallish. The place was spotless and as cute as a button. There was no backyard and no place for a pool. Parking was on the street. Still this little charmer sold for $470,000.
1301 Petronia Street
was a heck of a deal! This was a short sale listed at $548,100. The property was officially listed as two bedrooms and two baths. Unofficially, it had been expanded and had features worth a lot more than the sales price would suggest. It has a large pool and old Key West charm. It would make a great vacation rental. Again, this buyer got a great deal in my opinion.
627 Southard when bank owned
627 Southard after renovation
627 Southard Street
was a bank owned house located in a very ritzy location. The 2010 sq ft Conch house was listed at just $399,900. It had multiple cash offers with the winning bidder paying $560,000. If you have actually read what I have written here you will note that most of the bank owned houses actually sold for more than the asking price. This is often the case in bank owned sales in the Old Town area. I wrote about this house in January. It was listed for sale after having undergone a remarkable renovation. It went under contract soon after I wrote my blog which noted the asking price of $1,995,000.
1019 Whitehead Street
is a real charmer. The house three bedroom home with a pool and off street parking was totally renovated a few years ago and had a substantial new rear addition added. The interiors were very well thought out. The house was in very good condition. It was listed at $615,000 and sold at $570,000. Were this same house located on the east side of Duval the asking price and sales price would have been dramatically higher. Buyers who are looking for "deals" in Key West really need to consider the Bahama Village area because prices here are typically lower on a per sq ft basis yet have the same virtual proximity to Duval Street as houses on the pricier side of Duval.
1104 Angela Street
appeared in this blog at least three times as well. It had two bedrooms, a loft, a pool, and off street parking. The house sold for $575,000 after being on the market for over two years. The last asking price was $619,000. The house had been rented as a vacation rental and I saw that as a huge benefit for any future owner who wanted to do the same.
811 Carey Lane
had been on and off the market several times during the market down turn. It was listed in 2012 at $589,000 and sold for $580,000. This has been one of my favorite houses in Key West. The place is just so relaxing. Two very nearby houses each sold for over one million. I see 811 Carey Lane as being a comparable sale in the future if a pool is added and the property expanded a bit.
1319 Newton Street
is located in the Meadows area.This two bedroom home had oodles of charm but not a pool or parking. Most of the potential buyers I showed the house to loved it. But they all wanted a pool and parking for the same price. Since they make very few places this cute with a pool and parking, buyers have to either accept what is available, pay more, or not buy anything which, sadly, is often the case. 1319 Newton Street was listed at $595,000 and sold at $586,000.
6 Havana Lane
seemed to have all the features second home buyers wanted except one. It had been tastefully remodeled and had three bedrooms, two baths, a pool and beautiful garden, and off street parking. It was offered for sale at just $625,000. It sold at $600,000. The property is located about 150 feet north of Truman Avenue and one can see Bare Assets as you leave the gated entrance to the property. Too many buyers concentrate on locational issues like this and miss the bigger value of individual properties. I think this buyer got a great house at a great price.
I wrote about
718 Olivia Street
a couple of times. This old house had a huge rear yard totally invisible from the street. The place was livable as is. I showed the house several times to buyers who wanted a project house. I think the size of rear lot just confounded most buyers who could not fathom how to use that much space. The Olivia house was listed at and sold at $612,500.
1307 Eliza Street
is located one block east of White Street the arts district. The house was tastefully redone a few years ago. It had two bedrooms, two baths, a pool, off street parking, and was in move-in condition. It was listed at $659,000 and sold at $640,000. Earlier this week two nearby houses in the same block were listed and went under contract within a couple of days. Buyers need to consider areas like this as an alternative to higher priced Old Town houses.
811 Washington Street #103
is one of nine townhomes that were built in 2007. The three story 2240 sq ft town homes have three bedrooms, three and one-half baths, Viking kitchens, crown molding and superior interior features throughout. Each has a private pool plus front and rear porches on the first and second floors. This property was a short sale was listed and sold at $655,000. Compare that price to older townhomes in Truman Annex with an average of 960 sq ft of living space and shared pools which are now priced in the mid $700,000s. This buyer got a great deal on a superior property located in the Casa Marina area.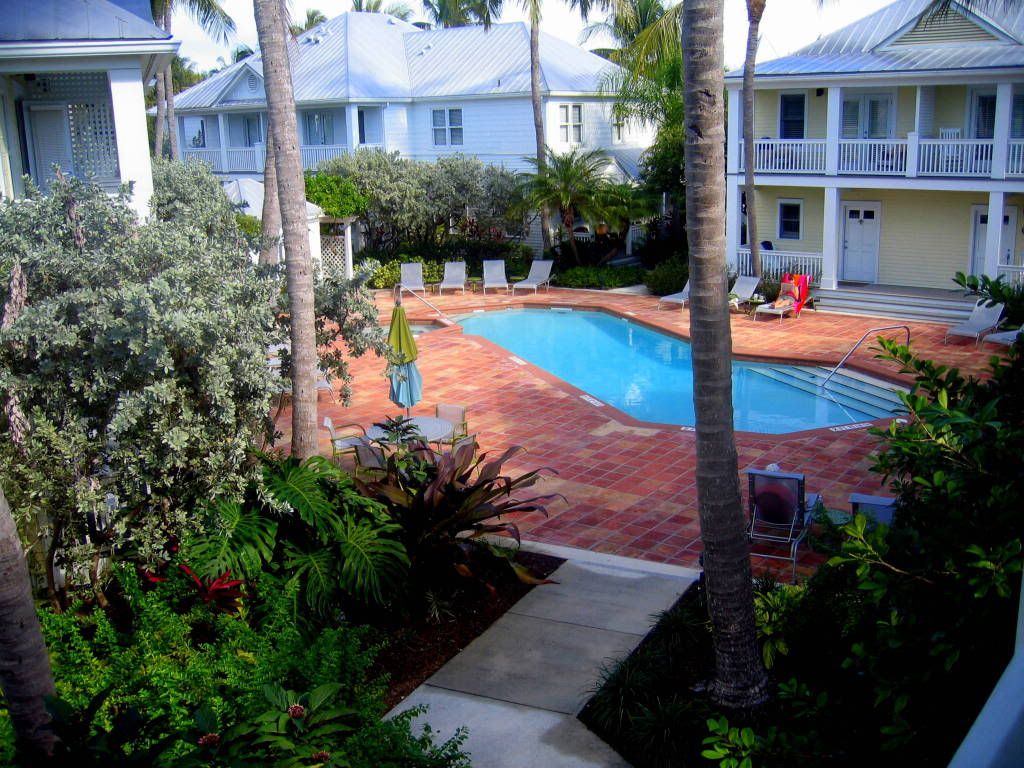 View from 408 Porter Lane second floor balcony
Speaking of Truman Annex, the Porter Court condominium located at 408 Porter Lane has a special Truman Annex transient license that permits 25 weekly rentals each year. Units like this appeal to a broad audience of buyers who want a place that can easily be rented to help pay the cost of purchase. This particular unit had a terrific rental history. It was very well maintained and showed as if it were newly constructed. The unit was listed at $749,000 and sold at $675,000.
The sweet house at
920 Cornish Lane
went under within three weeks after it was listed at $735,000. I met the new owners at an open house a few weeks ago. They informed that they added a pool to complete the property which sold at $705,000.
La Casa Roja at
1403 Catherine Street
went under contract in just one day and sold at the asking price of $750,000. This has got to be one of the sweetest homes in Key West.The property was designed and renovated by local architect Matthew Stratton. I heard the home inspector said he had never seen a house in such good a condition or that had he seen such superior construction in all the time he had been a contractor or home inspector.
715 Frances Street
was listed for sale at $849,000 and went under contract within days. The house is one of Key West's famous eyebrow houses. This property had the bonus feature of having a very large yard for future expansion or the addition of a pool. The home is located opposite the Key West cemetery, a location which causes some buyers to refuse to even consider. The buyer of this house got a great deal and bought the house for $750,000.
I wrote about
517 Elizabeth Street
when it got listed at $775,000. I sent the listing to potential buyers who were looking for a fixer house. This one is located on one of the best blocks in Old Town. It was a big old house with a large rear yard. It had been added onto and had lost the charm of the original house. The house went under contract immediately (two days) and sold for $750,000.
815 Sawyer Lane
is located near the seaport on a small Key West lane with similar cute as can be houses. You could not ask for anything more Key Westy in my opinion. The house itself had been updated several years ago. The kitchen was small and located at the front of the house. There were two smallish bedrooms down and one very large bedroom on the second floor. Buyers I showed the house to liked it but all thought they would have to redo something and spend more money. I have found that a lot of buyers say they are going to redo a house but once they move in they decide that the features they found troublesome are not that bothersome. Or they tear parts of the house apart so they can put their special imprint on an otherwise livable space. I would have given the house a fresh coat of paint and replaced the second floor carpet and spent the money I saved on a trip to Italy. This place sold for $775,000.
1110 Curry Lane
is one of the cutest little houses in town. It sits on one of the cutest little lanes in town. The house was on the market for quite a long time. The last asking price was $799,000. The house sold at $779,000. I think many buyers perceived the price on this house to be very high on a per sq ft basis especially during the time our market was going in reverse. It was when the market stabilized and then turned upward that this home sold. I will bet you that it would sell in a heart beat if listed at $799,000 today.
I wrote about one of the prettiest houses in all of Key West on at least three occasions-the house at
410 Simonton Street
. The once glorious single family home had been turned into five legal rental units which somehow morphed into even more. While I loved the property some buyers I showed the property to cringed when they saw how some people live. I showed the property many times and wrote two offers that were accepted by the seller only to have a local lender turn down financing because the property would not legally qualify for commercial lending (because of the illegal units) or residential (because it needed substantial renovation to convert it back to single family. Alas, a local buyer bought the gem in the rough for $820,000 or $75,000 below asking price. Congratulations on the purchase.
627 Elizabeth Street
appeared in this blog several times over the past few years. It was put on the market soon after it was completely rebuilt from foundation to rooftop. The place shined from front to back. It was a joy to show. The last list price was $895,000. The home sold at $850,000. If the house had parking it would have sold seven times over. Buyers who spend nearly a million dollars demand parking. This house did not have it and I think that is the reason it took so long to sell. Congratulations to the buyer who accepted the reality that parking in front of one's house is not all that bad. I have seen lots of houses that have been remodeled. This home is superior to most.
704 William Street
is located on a quiet little extension of William just south of Windsor Lane. The house like many others mentioned in today's blog was remodeled just as the real estate market started to tank. The original asking price was high. The property was rented as a vacation rental and the seller was slow to react to the declining market. The exterior paint job started to fail. All houses need to be maintained. Our sun can be brutal. The pool and outdoor area were small compared to the initial asking price. And while the location is great, the fact that the near million dollar house did not have off street parking bothered most would be buyers enough not to consider buying it. The property was eventually offered as a short sale at $899,000. The house was on the market for 2324 days in total-over six years. The sales price was $850,000. I think the buyer of this property got a great deal. Houses can be painted and the lack of parking is a consideration for a future sale. However, this is a residential neighborhood with single family homes. Parking here is not an issue. And this house is another excellent example of quality workmanship and materials used in the renovation and addition to this home.
1217 Newton Street
is another one of the prettier homes I have written about. The three story house has a one of a kind design and superior craftsmanship in the building of this home. The pool area is so calming. The master bedroom is located on the second floor which has an adjacent sitting area that reminded me of a house in the woods. The space is terribly romantic. There is even a rooftop sundeck complete with mini-kitchen and shower. It is the perfect perch for communing with the gods. This home was listed at $895,000 and sold in May 2012 at $860,000. As much as I raved about the wonder of this house, potential buyers were put off by the house next door. It was a falling down piece of crap. I told my buyers that Key West has many places like that and said that someday someone would buy the crappy house and fix it up. A couple of months ago I was driving down Newton Street and was amazed to see the crappy house had been torn down and a new one was being erected in its place. Congratulations to the new owner of 1217 Newton. You bought a wonderful home. And congratulations to the new owner of the old relic next door which will soon be a brand new house.
I wrote about
413 Frances Street
a couple of different times over the past few years. The house is another of Key West's prettiest houses that is located on a great Old Town street. This house was thoughtfully renovated a few years back. It had a pool two off street parking spots. And it had a successful history as a vacation rental. The house was listed at $995,000 and sold at $900,000 in 22 days on the market.
The stately home at
821 Southard Street
was on and off the market for several years. It was part of an assemblage of houses once owned by author Nancy Friday. The properties were purchased and cleaned up and then placed for re-sale. The asking price on this home was $995,000. It did not have a pool, but it did have three bedrooms, three baths, off street parking, and room for a pool in an incredibly beautiful back yard. This home sold for $900,000. I understand a pool is in the works. Congratulations to the new owner of this beautiful home.
1309 Catherine Street
is located in the arts district east of White Street. This home is hidden behind an incredibly high privacy wall that could not be built under current building code. The gardens and pool are just incredible. The house itself was a modest ranch that was renovated into a super sleek designer home. This property was listed at $1,195,000 and sold for $925,000 in just 22 days on the market.
605 Free School Lane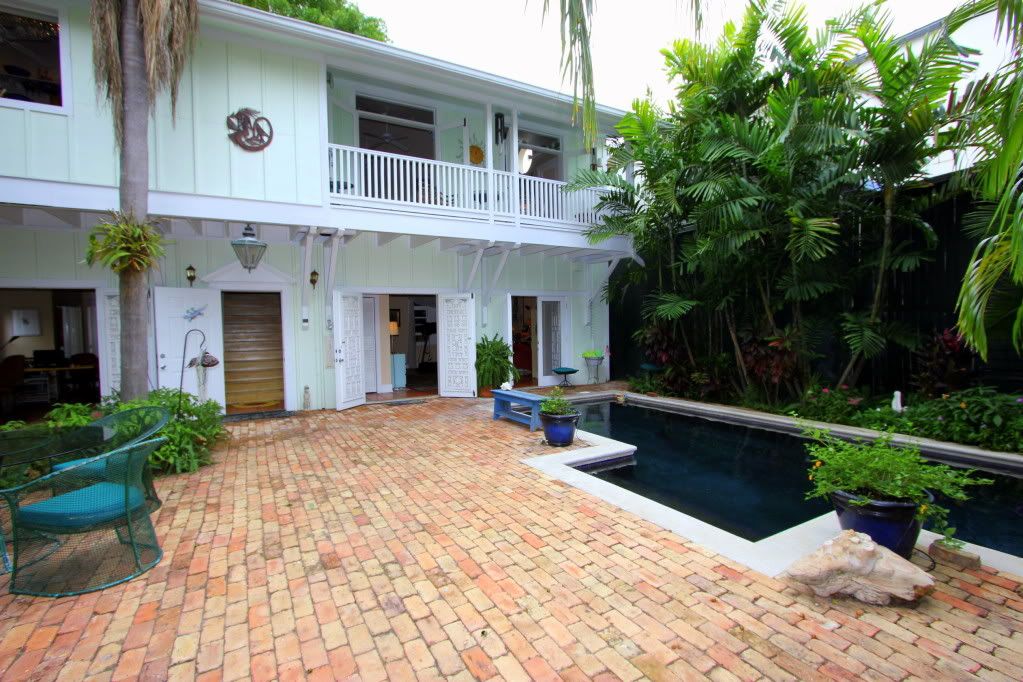 512 Fleming Street
Two properties located about a block apart exemplify what so many potential second home buyers want but cannot afford. Both have transient rental licenses and great Old Town locations. The house at
605 Free School Lane
was on the market for a couple of years during the down turn whereas
512 Fleming Street
was on the market only a few days. The Free School Lane had a great rental history with lots of income (places like this really do generate a lot of income). The Fleming property had not used the transient license in years. 605 Free School Lane was listed at $1,175,000 and sold at $1,050,000. 512 Fleming Street was listed at $995,000 and sold in six days at $1,080,000 (with a best and final among four cash buyers).
A lot of buyers want the beautiful home, the large pool, the guest cottage, and off street parking. The home at
412 Grinnell Street
has all of these features and more. The home was on and off the market over the down turn. A persistent negative on the location was the awful house and vacant lot across the street. Someone bought the awful house for $630,000 which belonged to one seller and also purchased the adjacent lot from another owner. The new owners of that property have begun an extensive (and expensive) renovation and expansion on both properties which will become on grand property. The new owner of 412 Grinnell Street will now have a very attractive neighbor. 412 Grinnell Street was listed at $1,195,000 and sold at $1,100,000.
730 Fleming Street
has a great street presence and the good looks to make passers-by stop and take notice. This historic home (built 1884) was tastefully updated and the cottage to the rear on William Street became a dramatic guest cottage. A pool and two off street parking spaces just added to the glam on this beauty which was listed at $1,784,000 and which sold at $1,600,000.
806 Truman Avenue
is another beautiful old Key West home with gracious exterior, beautiful interiors, a pool, guest cottage, off street parking plus three transient licenses. It was listed at $1,795,000 and sold at $1,600,000. I think this buyer stole this property. Wow!
Many of the homes that sold in 2012 had some type of condition or location issue except for a couple of the most expensive homes. The buyers who bought these homes got great deals in my opinion because they got houses with a lot of potential or a lot of value for a lesser price than they might have paid several years ago when prices were much higher and certainly what a new buyer will have to pay as our real estate market rebounds to new heights. The lesson of the Newton Street property gets repeated all the time. Things always get better here. Having one ugly property on the block should not prevent you from buying a great deal that meets your needs. In some instances the location may not be perfect. Understand this: Key West is a small island. Old Town is a tiny part of the island. There are very few perfect locations in Old Town. If you want perfect you are going to have to pay a huge price. Accept a house overlooking the cemetery, accept a house located on a street that has Conch trains or daytime traffic, and accept that you may not get a pool or off street parking.
If you are thinking of buying a place in Key West please contact me,
Gary Thomas
,
305-766-2642
or send me an email at
kw1101v@aol.com
. I am a buyers agent and a full time Realtor at
Preferred Properties Key West
. Let me help you fulfill your fantasy and buy the perfect Key West property.
CLICK HERE
to Search the Key West Association of Realtors mls. There's gotta be something just right for you.